Tokyo is a city in Japan that has a fantastic mixture of modern living and old fashioned manners. A combination of high-tech gadgets and cutesy cartoon mascots. It is a home of the of people with several personalities. This city also offers a great variety of foods and a exceptional mass transportation system. Though this city is much more modern than the other cities in Japan, you still see shrines and stone lanterns that reflects the old Japan. Japan is a country that has developed so well, among the developments are skyscrapers, shopping malls, and massive noodle shops.
Here is how to see the best of Tokyo in a day or two.
1. Tsukiji Fish Market
Tsukiji Fish Market is known as the world's largest and busiest market. Go there at around 5 am so that you can see live tuna auction. But before you visit the Tsukiji fish market, make sure to check ahead of time if it is permitted on the day you would want to visit. There is a first come first serve basis, and limited to 120 people only. You can register at around 4:30 am at the fish information center that located inside the Kachidoki Gate. If you are planning to visit in a much later time, keep in mind that by 9 am, business will start to wind down.
There is a lot of sushi counter in Tsukiji market, but for you to able to find the best sushi shop you must proceed your way to the restaurant area near the fruit and vegetable market that sells wholesale. It is said that to complete your in Tsukiji Market, you must also try a sushi breakfast. Expect to pay around 300 to 800 yen per a good cut of sushi.
If you do not like the smell of the wholesale market, you can also go to the Tsukiji's outer market. You can find there a fresh seafood dish and also real wasabi.
2. Sumo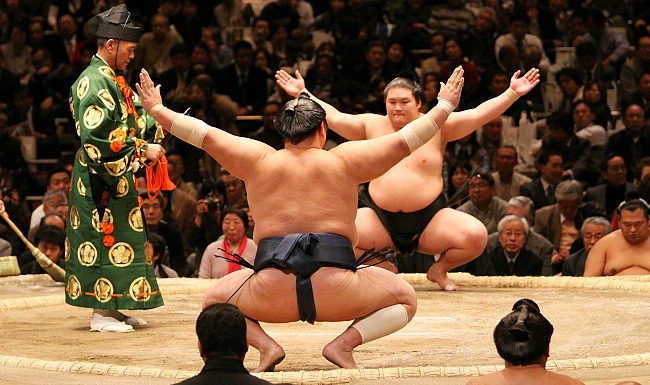 If you happen to visit Tokyo during one of the three grand tournaments, then you must watch a Sumo fight. You can watch it at the Tokyo's National Sumo Hall at Ryogoku Kokugikan. Do try to be inside the arena before the fight starts. You can rikishi parade into the arena wearing ceremonial aprons over their loincloths, and if you are lucky enough, some the champions demonstrate some of his classic moves.
The place is usually packed during Friday's and Saturday's so make sure you booked your ticket ahead of time.
If it's not a tournament season, you can also try watching an early-morning training at beya, or sumo table. You can try to ask your staff to help you with the reservation. You can also give a little donation.
3. Meiji Shrine

Tokyo's famous Shinto shrine is simply serene and austere, not so flashy or colorful, unlike other Asian Worship places. The shrine is dedicated to the 19th century emperor who opened Japan to the West. The entrance gate of the shrine is 40 foot high. The 200-acre park is made out of 1,500 years old cypress.  Visitors love to watch traditional wooden architecture of Shrine that expresses the glory of Japanese art and culture. Make sure to stop at the cleaning station, to wash your hands and mouth before offering your prayer. You can write down your wishes in a piece of paper and tie them onto the prayer wall, you can also do what the locals do, and toss some yen in the offering box.
4. Yoyogi Park
With living space so tight in the city, Yoyogi Park in Shibuya-ku is the perfect relief after a day in the shrine. Yoyogi gathers all sorts of talents, horn players, hip hop dancers to rockabilly gangs, which is complete with poodle skirts and Elvis-inspired pompadours. They usually gather by the park's east side entrance on Sundays to jam to American pop music from the 50's.
5. Shinjuku Gyoen National Garden
In late March and early April, cherry blossoms season looks stunning in Shinjuku Gyeon National Garden. It is also called as the most beautiful park in Tokyo. In Shinjuku Gyeon National garden, you can see a lovely Taiwan Pavilion. You don't even have to bother bringing some food in the garden. There is a department store, just south of the Shinijuku Station where you can buy a take a way food. Make sure to ask a map in English, for you to be able to locate all the major gardens inside.
6. City Views


There can be a lot of things to do in the popular Roppongi Hills complex, there is a garden, cinema and load of shop and restaurants which you can spend your time with and relax. You can visit and check Louise Bourgeois's giant spider sculpture, Maman, then you still have the time and energy you can move to the Mori Tower for you to experience the Tokyo City View.
7. Shibuya Crossing


Shibuya Crossing is the Tokyo's version of the New York Times Square. Your visit to Tokyo will not be completed without you walking across the famous intersection outside Shibuya Station. On a daily basis, the area is packed with shoppers, students and young couples. When the traffic turns red, pedestrians deluge into the intersection from all side of the street. You can view this chaotic yet satisfying view while drinking your favorite coffee in Starbucks second floor window.
8. Dinner and Drink in Ebisu


You can easily find an expensive fancy restaurant in Tokyo, but it makes your visit to Tokyo more exciting is to eat and drink in the local color on the cheap and small izakaya. Ebisu is full establishments which specialize in grilled meat and vegetables as well as sashimis and other casual foods which is cooked in a small kitchen and served on a small plates. You can also find many drinking spots in Ebisu, it is called noren, so if you found one, expect an extensive drink menu.
If you want to try an old school drink Ebisu, go to Saiki, it is a two story building that is practically furnished with wooden interior.
Japanese bar food is not the only reason to go to Ebisu, you can also go to the other side of the station and eat and dine in a korean restaurant called Toraji, where you can grill your own choice of cut beef.  There is no Menu that is written in English, so before going to Ebisu study your phrasebook beforehand.
9. Karaoke


Japan is known for karaoke. Karaoke is usually done inside a private room with some colleagues and friends, to make it more convenient, drinks are delivered in your private room.
There is a lot of English songs to choose from. Smash Hits, is one of the most famous karaoke bar , that is located at the west end of the Hiroo shotengai.
If you want a lot of variation on the standard karaoke bar experience, head to Lovenet in Roppongi. It offers a lot of suites, private lounges with various themes to choose from.
10. Daimaru's Kimono and Yukata
Before you leave Tokyo, check out the Daimaru Department Store. It is a 10 floor building which sells kimono, it is the shop where the Japanese ladies come to order custom-made ensembles.The price of the Kimono will shock you.  The store holds a lovely, traditional blue and white geometric patterns for men, and orchid bamboo prints for women it a different sizes available. The prices are ranging from $50 to $60, including the belt.
There is another store that is located in Omotesando Street which is called the Oriental Bazaar which offers a much bigger selection of yukata and all sorts of souvenir.